Camping and Stay Package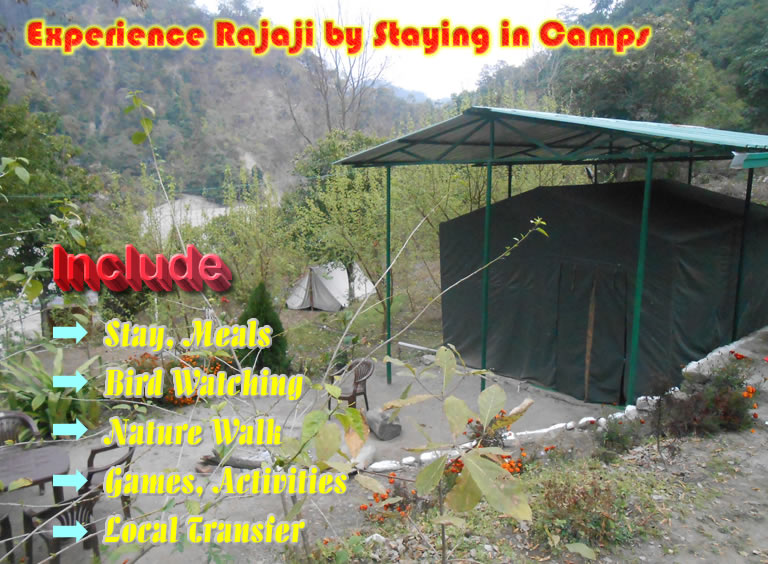 About the location:
Eco Camps are nestled in the Shivalik Range of the Himalayas near Rishikesh (approx 35 kms). Being the only Wild Camps in the area, the solitude and peacefulness makes it extremely attractive to those wanting to get away from the din of civilization. The drive up to the Wild Camps is also an adventurous and exciting one. It is advisable to only try it in a 4-wheel drive. It is interesting to keep your eyes open during the drive up as this area has the highest population density of leopards and Himalayan black bears, wild elephants, spotted deers, antelopes etc. The lucky ones also get to see the mountain goat, the Ghoral, is unique to this area.

Accommodation We provide 12 feet by 15 feet tented accommodation units, which have a centre table, two beds with mattresses. Each unit is weather proof and well ventilated with roll up net windows with attached toilets.

Dining Arrangements The camp kitchen takes care of the meals in a buffet arrangement. The meal pattern is Veg / Non Veg, Chinese and continental food is also served at the camp with prior information and request. Drinking water at the camp is sourced from a natural water spring with in the camp area. The same is filtered through candle filters before laying out for drinking. Alternatively bottled water is procured for drinking and cooking purposes. Adequate supply of bottled drinking water is also maintained at the camp.
The 2Days/1Night Package for the stay at Rajaji National Park:
Include:
1 Night Stay in Eco camp
3 Meals (breakfast, Lunch, Dinner), Veg/N.Veg Both
Evening Tea with Snacks.
2 Km Hiking (Nature Walk/Trekking)
Bonfire
120 minutes Jungle Watch (Safari) Through Jeep.
Indoor Games like Playing Card, chess, carom board, Lodo etc.
Outdoors Games Volleyball, Badminton etc.
Pickup and dropping (13-13 km both side) from Village Ganga Bhogpur through Jeep/Gypsy.
Not Include:

Any personal expenditure
Whatever not included.
Zip Line, Rock climbing, Rappelling Activity is available on nominal cost for a group of 10 pax. (minimum)