Junlge Safari Packages (by Jeep), Rajaji National Park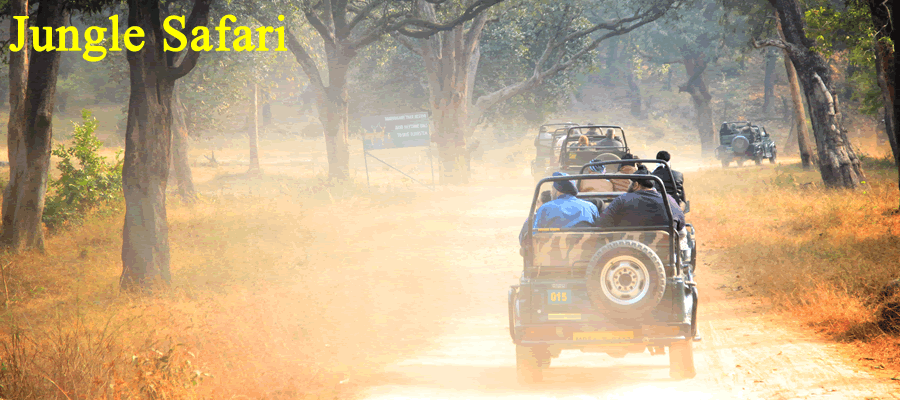 ---
It is 2-3 hours safari by Jeep, in morning time (Gate open: 07-09 am) and in evening time (Gate open 3-5pm) in which you can experience Jungle. Rajaji National Park is a very famous tourist destination located in the India state of Uttarakhand. The region is mainly famous for the Asian Elephant Reserve. Main transport options around the reserve are jeeps safaris. Private vehicles are not allowed inside the Reserve forest, and this is one point to note while taking up a trip to Rajaji. At Rajaji you can get the chance of viewing Spotted Deer, Sambhar, Wild Boar, tiger, leopard, Barking deer, Goral Two kinds of Bears Himalayan Black and Sloth, and over 400 bird species makes Rajaji National Park a perfect wild life safari and bird watching destination.
Day visit Safari Packages
Pre-Book your safari by paying just

Rs. 700/-

per Jeep (Gypsy), rest pay on arrival
for Indian Nationalist
S.No.
No. of Person
Gate

Gypsy Charges (INR)
Entry Fees
Gypsy/Vehicle (INR)
Gate Entry Fess Member(s) (INR)
Booking

1.

1 to 6

Jhilmil/Ranipur
Safari Duration: 2:30-3 Hours

3000.00

250.00

150.00 x per person
upto 6 persons

2.

1 to 6

Motichur
Safari Duration: 1:00-1:30 Hours

3000.00

250.00

150.00 x per person
upto 6 persons

3.

1 to 6

Gauhri
Safari Duration: 1:30-2 Hours

2500.00

100.00

N.A.

for Foreign Nationalist
(INR)
(INR)
4.
1-4
Jhilmil/Ranipur/Motichur

4000.00

500.00

600.00 x per person
upto 6 persons

5.
5-6
Jhilmil/Ranipur/Motichur

5000.00

500.00

600.00 x per person
upto 6 persons
Complementary: One Child upto 5 years on one Jeep.

Safari during Rainy (Monsoon) days: Safari during monsoon can be just a nature drive in buffer area of national park or conservation reserve. It gives you a different feel of adventurous ride in open jeep (Gypsy) when nature is wet and there may be rain at any time. Yet in June, July, August, September have some days when there is unexpected rains or heavy rains. The safari track may be broken or over flooded with rainy rivers. Safari will be subjected to permission by forest authority, even you have booking for that day. Safety comes first in all respect. If it is cancelled in such situation, no refund is possible. Only we can postpone safari on next available correct ground conditions.

Want to see Crocodile, Elephant, Leopard, Tiger, Migrated Birds, Pythons, Deers and lot of other wild activities. Jhilmil Jheel Conservation Reserve has complete potentials to display you this time (November, March). It required a completely patience and dedication to search and you must have time of 3-4 days. For a real wildlife, nature lover we have complete package for 2 nights/3 days stay with 3-4 safaris at Jhilmil Jheel. We take only 4-6 persons at a time not more than this for best wildlife experience. Wildlife is always matter of chance, yet our experience says that the percentage of sightings (chances) in this package are Crocodile 99%, Elephant 85%, Leopard 75%, Tiger 60%, Bear 50%, Siberian Migrated birds 100%, Deers 100%, pythons 30% (as remain hidden), Wild boards 80% etc many more unexpected sightings. Click here Send Enquiry and go with Option "Wildlife Tour Package".
| | |
| --- | --- |
| LEOPARD SAFARI AT JHILMIL JHEEL CR | CROCODILE SAFARI AT JHILMIL JHEEL CR |
| | |
| KNOW MORE | KNOW MORE |
Please Note
Chilla Booking is available at link https://rajajitigerreserve.uk.gov.in Kindly get online permit and go directly to Chilla Entry Gate. Show your permit at Reservation office for further proceeding.
All Indian and Foreign Nationalist required to keep photo copy of their photo id (Voter id/ aadhar / DL / passport.)
While filling booking form, also mention the name, age, gender of each group member at Message Text Box.
Book early help us to make arrangement properly.
Sitting capacity of Jeep is 1 to 6 persons at at time.
Chilla Zone is much developed and have maximum number of tourists round the year, Motichur zone is less popular than Chilla but have enough tourists. It is easliy approcheable from NH-72 and just adjecent to National Highway. Ranipur Tourism Zone is less popular than all. Yet no one knows when and where you have luck to see maximum jungle culture.
Jhilmil Jheel zone A marshy grassland just near the Rajaji National Park (extension area of Rajaji Tiger Reserve), near Haridwar. This is a unique 155 hectare (383 acre) site. It is corridor for most of animals transferring from National Park. Jhimil is literally the last piece of primordial Terai marshland to survive untouched in Uttarakhand. A panoramic view from the well-situated watchtower can take one back a millennium and more; little would have changed. At this low-lying site (altitude: 240 m. or 800 ft.) lives Uttarakhand's only surviving herd of Swamp Deer or Barasingha (Cervus Duvaucelii).
Ghori Range Ghori range is in the northeastern part of Rajaji. The area is ecological rich with good mix of old sal, riverine forest, grassland and miexed decidous forest. Several perennial streams including Tedon all seasons, and hence wide diversity of mammals, birds, reptiles and invertebrates. The Tedon Valley is reached by Gypsy track that crosses many small water streams makes this journey adventourous. Inside the halt point is Vindhyavasini Temple, Guest may do hiking 300 meter up to reach there and see panaromic view of this range or may do enjoy in running water stream. We provide a 30 minutes break here.
New Safari zone Chilla-II (Andheri) and Motichur (Satyanarayan) also available round the year for visit.
Pickup and dropping from any location will be extra
Guide Cost will be Extra. Guide is mandatory for Jhilmil Zone
GST (5%) will be Extra.
Only Jhilmil Zone safari available round the year, which is also subjected to rain condtions, rest zones available from 15th Nov to 15th June every year.
Rain effect: Some time due to unavoidable reasons like heavy rain (Pre monsoon rain), park gate specially Chilla got closed. In this conditions we provide safari on another gates of Rajaji (like Motichur, Jhilmil, Ranipur etc) depend on situations. Or guest may come on another opening schedule of prescribed gate as soon as open by Forest deparment. Refund is not possible in this situation, if guest are not ready to avail alternative solutions.
COVID-19 Protocol (Code of conduct) is mandatory for every guest during visit as per Government norms.
100% Cancellation charges applicable due to COVID-19 restrictions, Lockdown, curfew, become positive during test on tour. For refund kindly excuse us.
We are committed for best wildlife experience for all our guests.
Night Stay at Rajaji National Park: Packages
Feel the jungle by staying at Nature Camp

Feel the jungle while staying at luxury resort

Features:

Night Stay in Jungle Camp (Fixed Cottages with attached Washroom and electricity) VIEW IMAGES
1/2/3 Safari on Gypsy
Food (Lunch, Breakfast, Dinner) with Morning, Evening Tea/Coffee
Nature walk, Fun Games in Game Zone

Features:

Night Stay in Luxury Resort (Having luxury Amenities, Swimming Pool) in Rajaji. VIEW IMAGES
1/2/3 Safaries on Gypsy
Food (Lunch, Breakfast, Dinner)
Nature walk, Fun Games in Game Zone




Send Enquiry
Send Enquiry

Group/Family/Corporate (10-18) Persons

(Wildlife, Rafting Adventure Tour Packages)

**3 Days / 2 Nights** (Indian Citizen Only)

Features:

*Night Stay at Luxury Jungle Camp (First Night Stay at Rajaji Tiger Reserve, Second night Stay at Rishikesh Camp) *All meals (lunch, breakfast, dinner), *1 wildlife safari, *16 Km Rafting, body surfing, kayaking, *Rock Climbing, *Rappelling, *Jungle/River Trekking, *Badminton, Volleyball, Carom etc fun games, *swimming in River, *Bonfire,* music

Who can get this Package: Any one who wish to experience the adventure wtih jungle safari, rafting, trekking with his own group, family, office staff etc. Children: Only above 12 Years applicable

If you are 10-12 Persons Group
If you are 15-18 Persons Group
Click Here for Details
Click Here for Details