Jhilmil Jheel Conservation Reserve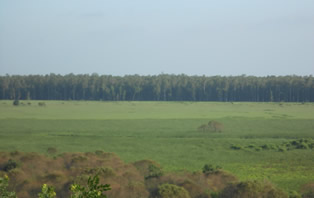 A little known marshy grassland just near the Rajaji National Park (extension area of Rajaji Tiger Reserve), near Haridwar. This is a unique 3783.5 hectare (9349.23 acre) site. It is corridor for most of animals transferring from National Park. Jhimil is literally the last piece of primordial Terai marshland to survive untouched in Uttarakhand. A panoramic view from the well-situated watchtower can take one back a millennium and more; little would have changed. At this low-lying site (altitude: 240 m. or 800 ft.) lives Uttarakhand's only surviving herd of Swamp Deer of Barasingha (Cervus Duvaucelii). These graceful creatures were once found all over the Terai, the once-unending marshy belt separating the Shivalik Hills and the Gangetic Plains. Jhilmil was declared a Conservation Reserve in 2005 upon on order from Dr. Abdul kalam, then the President of India, thanks to a creative new law allowing the preservation of smaller wild areas.
Biodiversity at Jhilmil Jheel
Jhilmil Jheel conservation Reserve is rich in fauna and flora diversity including five species of deer (Chital, Sambar, Barking deer, Hog deer and Swamp deer), Elephant, Nilgai, Common leopard and occasionally tiger are also seen in the area. There are migratory birds.
Gallery
Leopart Huting at Jhilmil Jheel
Elephant fight at Jhilmil Jheel